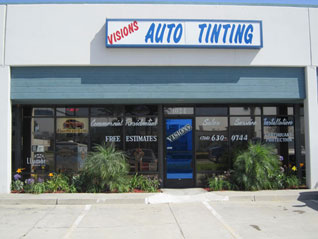 View Larger Map
Window Tinting in Anaheim
Visions Tint in Anaheim Ca. is your best choice for window tinting in all of southern California. Weather it be Automotive window tinting, Commercial Window Tinting, or even Residential Window tinting. We are a professional Window Tint Shop that has been serving the residents of Orange County Since 1988.
At Visions Tint you will find that we are here to help you make an educated decision about which window film will solve your needs. Visions Tint uses only the finest quality window films from almost all of the manufactures available. Visions Tint is an expert automotive, commercial, and residential window film installation company.
Choose Visions Tint in Anaheim, Ca. for all of your southern California window tinting needs.
Reasons For Window Tinting
Stops Ultra Violet Light
Window film stops approximately 99.0% of UVA-UVB rays, greatly reducing fading, discoloring, cracking of personal property. Window film greatly reduces the chances of skin cancer while driving or sitting next to windows in your home or office, SPF Rating of more than 200.
Reduces Infra Red Heat
Window Film stops up to 97% infra red light, up to 83% of heat gain, and can greatly reduce heat loss during the winter months. Window film will lower energy bills, relieve stress on HVAC Systems, lowers energy costs year round, and can prevent overheating in your car. Your cars interior can be up to 60% cooler with window film. Window film can greatly reduce the damage caused by infra heat in your automobile, business and home.
Cuts Glare
Window Tinting can cut the dangerous and annoying glare from the sun as well as reflection from the snow and water.
Enjoy Energy and Savings
Reducing temperature imbalances caused by extreme sunlight is why so many designers, architects and building engineers desire window film. Reducing heat loss will increase HVAC efficiency and lower energy costs.
Increased Safety
Window film can protect against damage to personal property, personal injury, and loss of life from flying shards of shattered glass due to accidents, environmental effects (earthquakes, hurricanes, etc.), and vandalism (burglary, graffiti, etc.).
Enhances appearance and privacy
Whether at your home, office, storefront, or in your car; window film can create a contemporary look, uniform design, division of office space, as well as privacy by darkness, reflectivity, or by a simply custom designed film.
Fast, Easy, and Inexpensive
The knowledge, experience, professionalism, and expert installation with Visions Window Tinting will ensure customers minimal disruption of daily lives, the longest lasting window films in the industry, at a reasonably inexpensive investment cost.